At home with Kate Fowler
October 29, 2021
Step inside the charming abode of New Zealand native and mother of two, Kate Fowler. Beauty and brilliance underpin the aesthetic of her home as sentimental pieces imbue throughout, all holding a story, boasting handmade or preloved qualities and offering a sense of discovery.
Intended to enhance the characteristics of the living area, our Bamboo Silk in Moss was chosen to dial up the natural sense of cosiness in the space for her and her two little girls - a space in which they play, rest and gather.
Here, we speak with Kate about life at home and how our Bamboo Silk serves this space of connection.
At Nodi, we follow a collective notion that home is the starting place for love, rest, play, and connectivity. What does your home mean to you?
All of the above. Now more than ever. Being anchored at home the past few years I thought my girls would get cabin fever but it's been the opposite. I can barely get them out of the house now - even to the beach or park! That stillness can first be experienced as boredom but after that is the sweet spot where we've learnt to make our own fun and be with ourselves and each other in a more settled way. Time at home is something we're going to keep making space for even as life now starts to speed up.
You have an impeccable eye for style - in both a fashion and interior sense. What informs your interior aesthetic?
Enjoyment mostly. Often luck. There are so many talented people and times in history that amaze me but my own choices are much more humble and spontaneous. There's no set timeline or masterplan, the fun is in the process for me so being "done" isn't the goal, I am happy for things to shift and morph over time.
What I am really after is charm, those unexpected details that catch your eye and heart, that would be unthinkable to leave behind. It's a habit that often leads me to preowned or handmade things marked by time or love - chance is of course a real factor there, so I stay ready. I find some wonderful things in unlikely places, so whilst important design can provide a lot of inspiration I feel like style is more accessible than that - it's more about keeping a keen eye and an open mind than price tags or trends.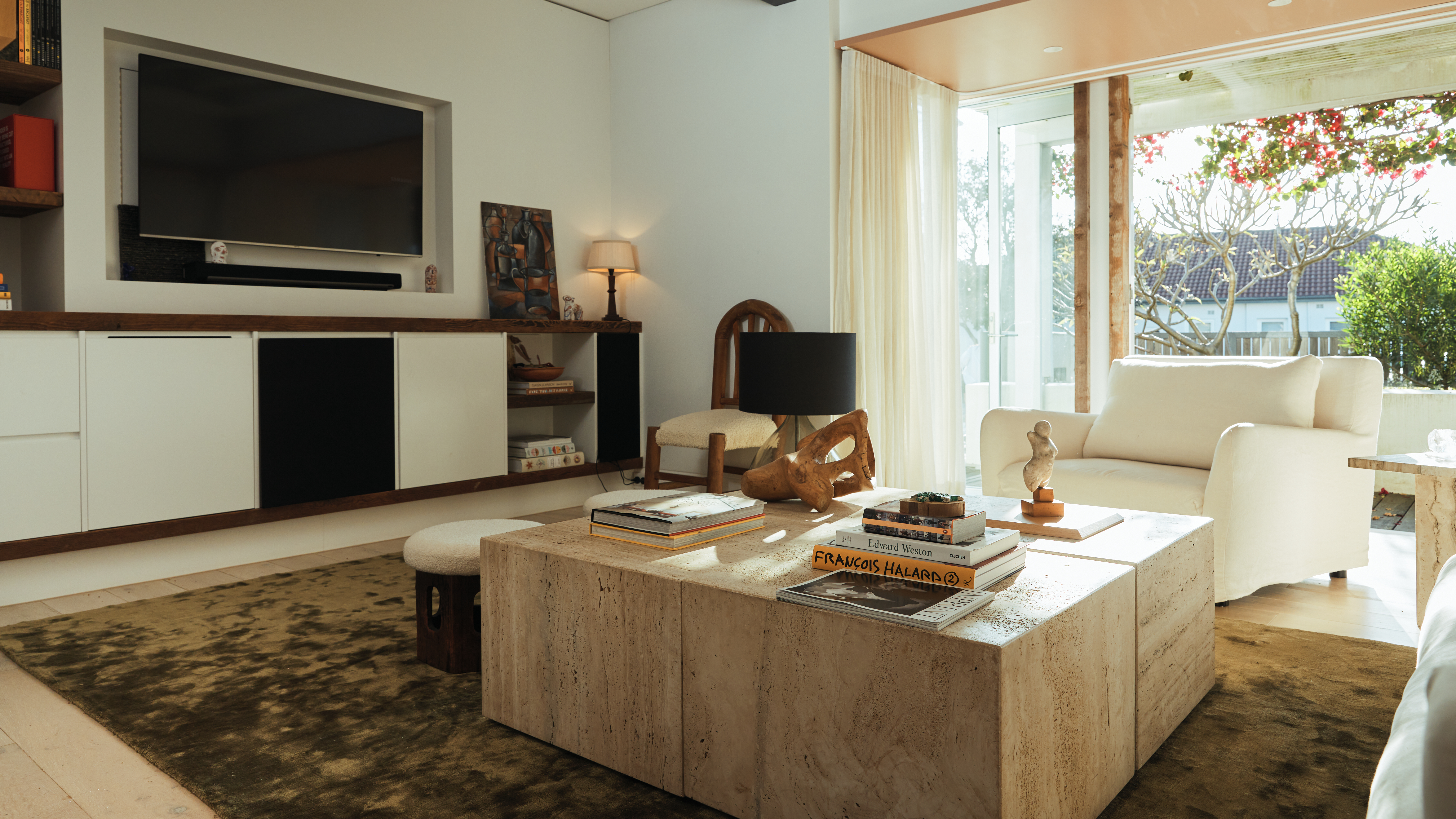 You have chosen our luxurious Bamboo Silk rug to add to your living area. What attracted you to this style?
I noticed this was an area we retreat to on rainier days or to curl up and watch a movie, originally we had a jute rug here but I was keen to dial up the natural sense of cosiness in the space with something softer underfoot. Because the space is quite long and there's a bit of clear space, it often operates as a bit of a dance floor for my girls and even a pet shop as of late (the girls have stashed their soft toys in the cupboards right here). We also play boardgames here on the floor a lot so it's cool to see how the added comfort in the space can enhance that time for connecting - we are spending even more time together here now than ever.
What is your most favoured room in the home, and why?
It's difficult to say, being at home so much over the past few years has encouraged us to draw on different spaces in the house more - by activity but often following wherever the light is at that time of day. Right now we are spending most of our time outside - my kids are semi-amphibious now the warmer weather has begun and we're enjoying making use of the grill too.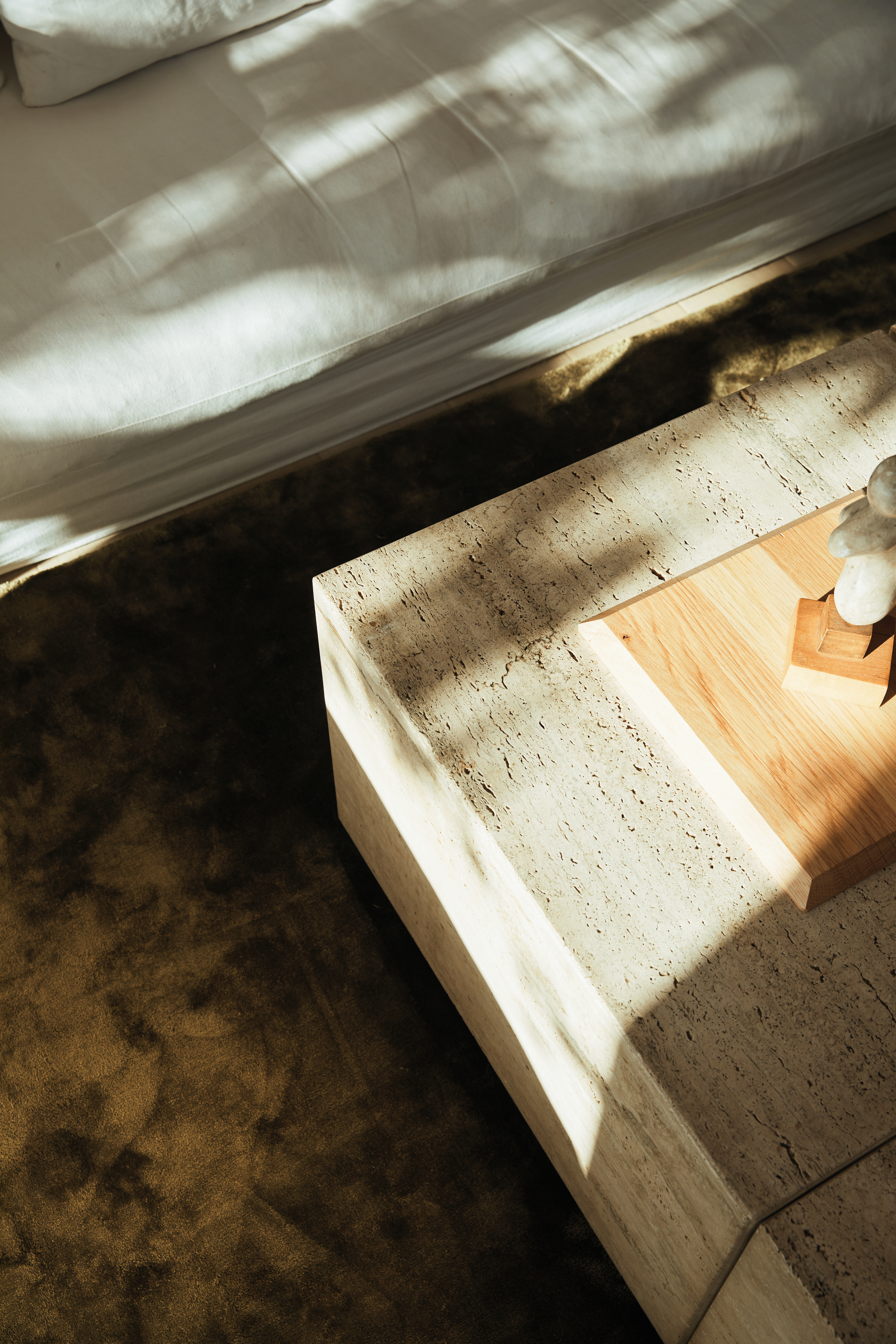 Do you have any rituals inside your home that set you up for the day, or help you wind down?
Nothing too fancy. Music in the morning. Candles at night. Tea before bed. Lists to clear the mind. With kids in the mix the key is making it all achievable.
Do you have any heirloom objects in the home that tell a story?
A teapot and mugs by Peter Shire, a founding member of the Memphis Group of designers, given to me by my boyfriend Davie. He knows me well! An amazing gold and leather plaited belt of my mother's that I kept sneaking out with through high school and and eventually, happily, acquired - thanks Mum! The girls have made some really cool things which are dotted around the house - Alexa's self portrait in clay, a papier maché radish by Saachi and a huge collage Alexa made over 6 months at kindy - I love having them around.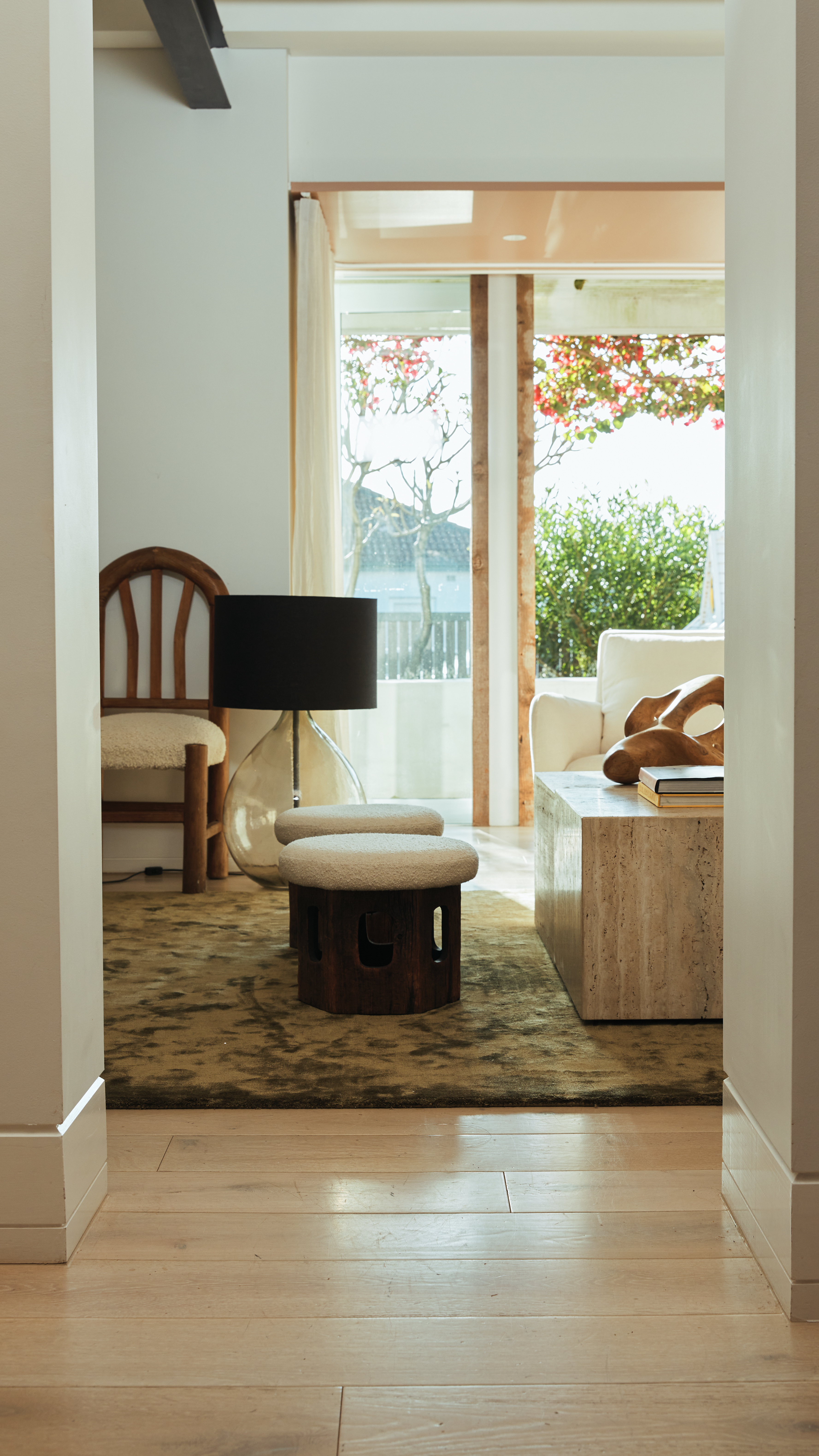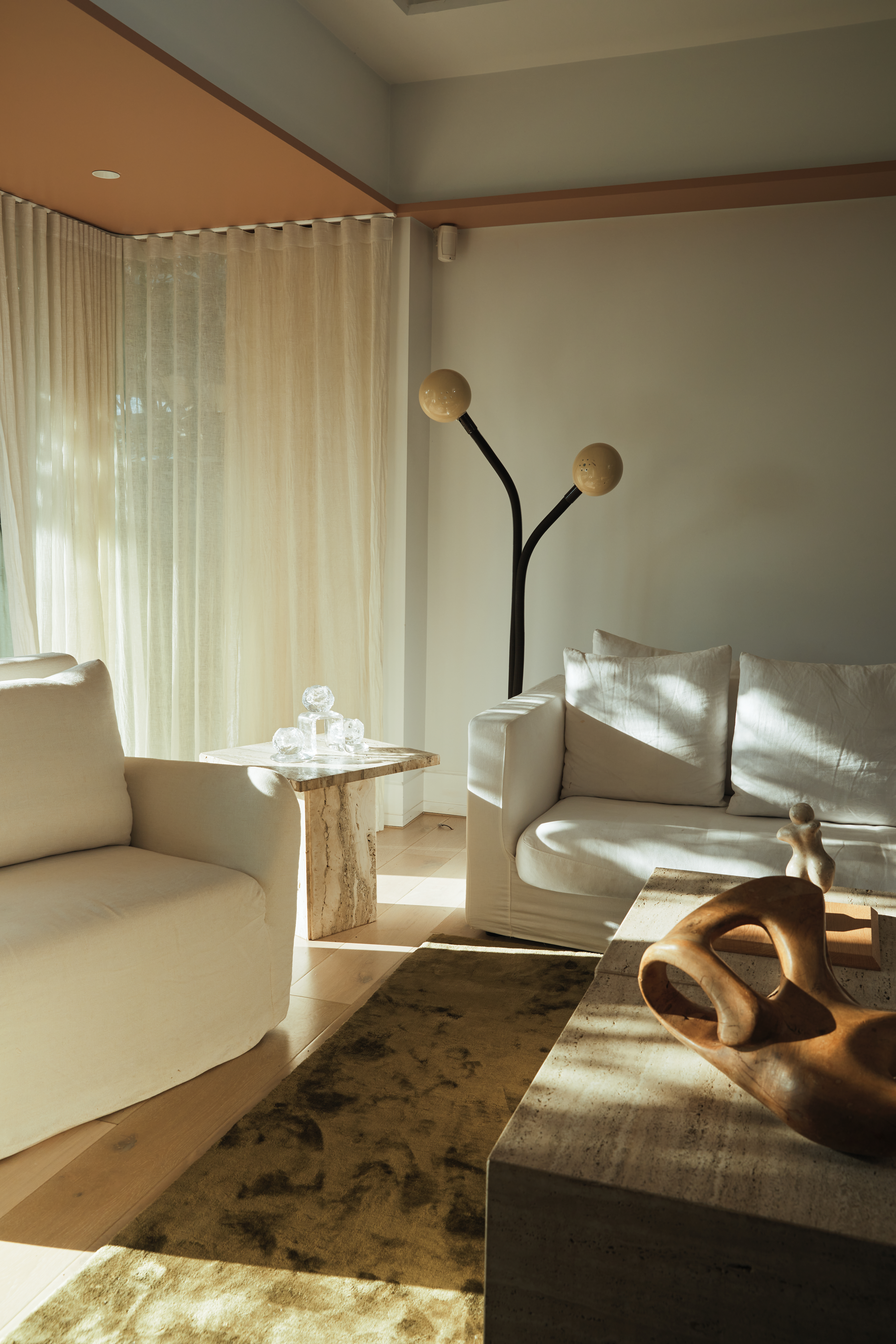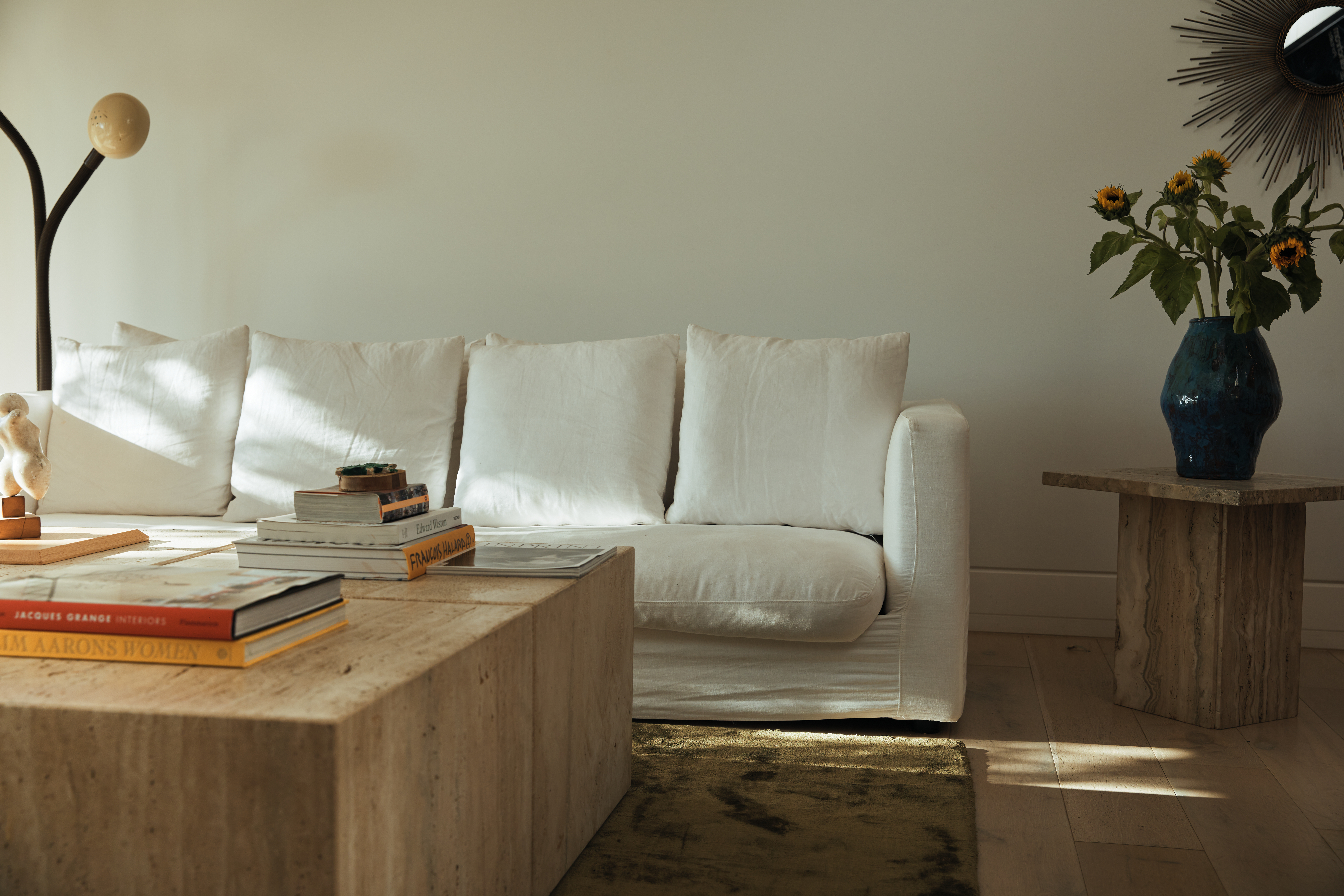 In what ways does your Bamboo Silk rug complement your living space?
The rest of the room is pretty neutral and I was really keen on injecting some colour into the space. I love how the rich Moss colour really grounds the space. It is one of the darker rooms in the house and whilst it is tempting to brighten things up I find that embracing a room's character - letting a darker room be a bit moodier is more satisfying in the end. With daylight savings here now the light comes in beautifully for a short spell right around dinner time and the room becomes a real hub with a lot of chatter - I love how the different tones in the rug really sing at that hour . The warm tones now have me dreaming about installing a fireplace.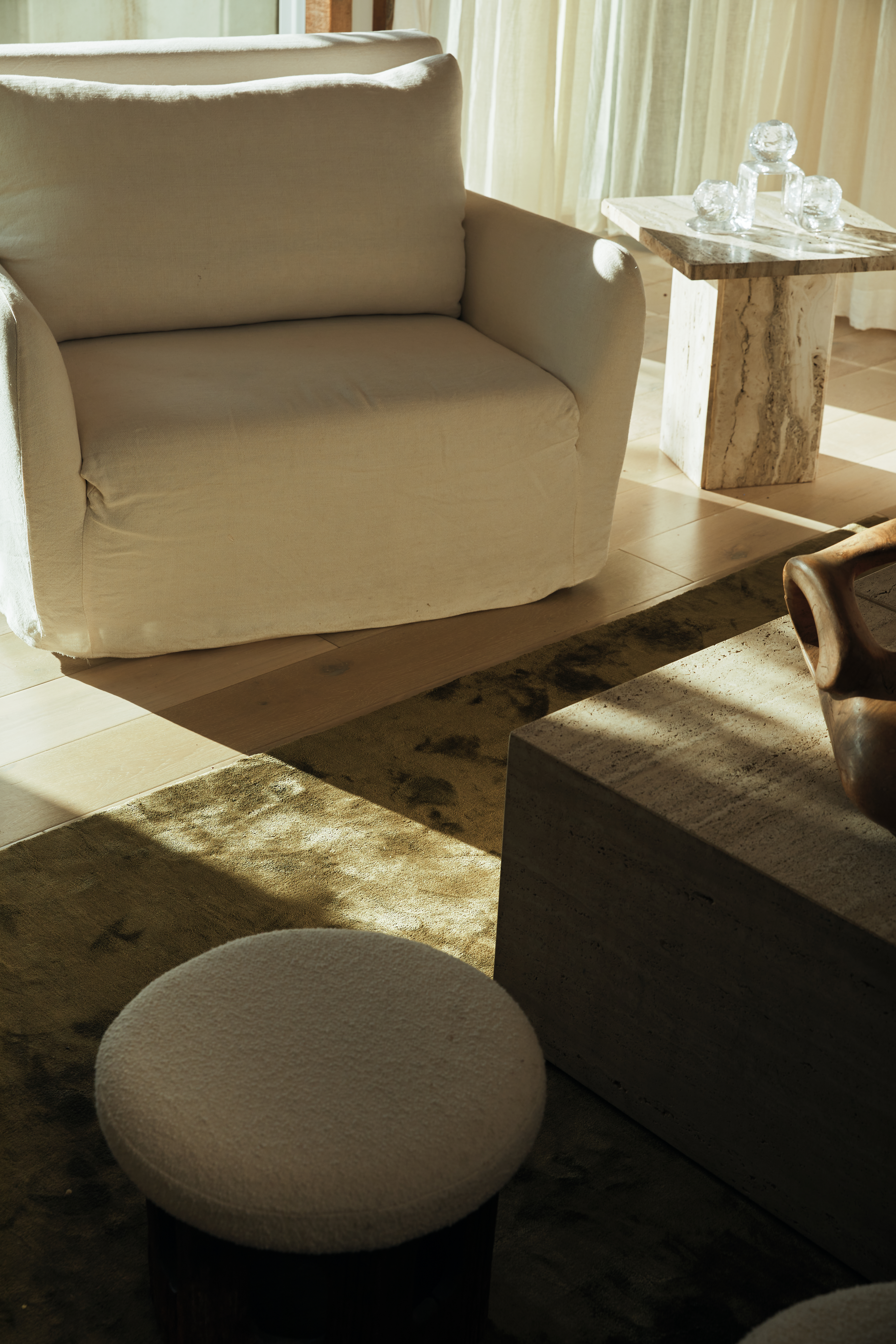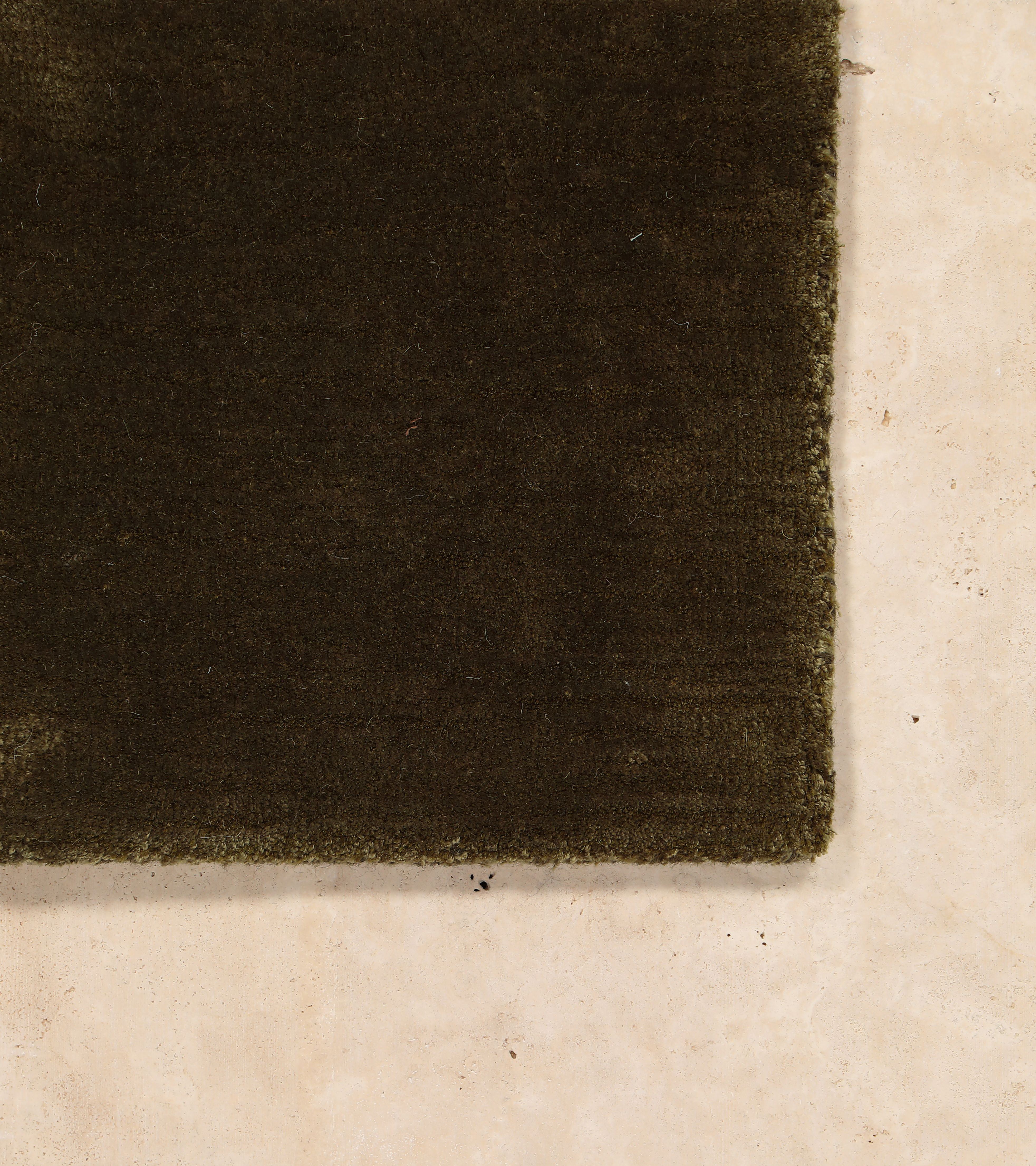 Bamboo Silk Blend
Made from a blend of the highest quality bamboo silk and wool- this luxurious rug elevates the space in which it sits, adding a lustrous, rich texture which changes depending on the light.
Bamboo Silk Blend