Someday Studios HQ
January 17, 2022
Milly Hewat Wall & Henry Hewat are the brother and sister duo behind Someday Studios - an Auckland-based creative agency that boasts a fresh and progressive vision. As fate would have it, their former careers were spent working alongside each other in the same agencies which led them to merge their separate but complementary skill sets to offer a unique client experience that invites a new way of thinking, creating and communicating.
Nestled amongst the thriving hub of Freemans Bay is Someday Studios HQ - a beautiful villa set up to feel like a home, rather than an office. Anchoring their multi-purpose lounge area is our Bamboo Silk rug in Marigold which adds an elegant touch of warmth and vibrancy, and invites connection between staff, clients and friends.
Here Milly & Henry share more about their agency, culture and how Nodi serves their space.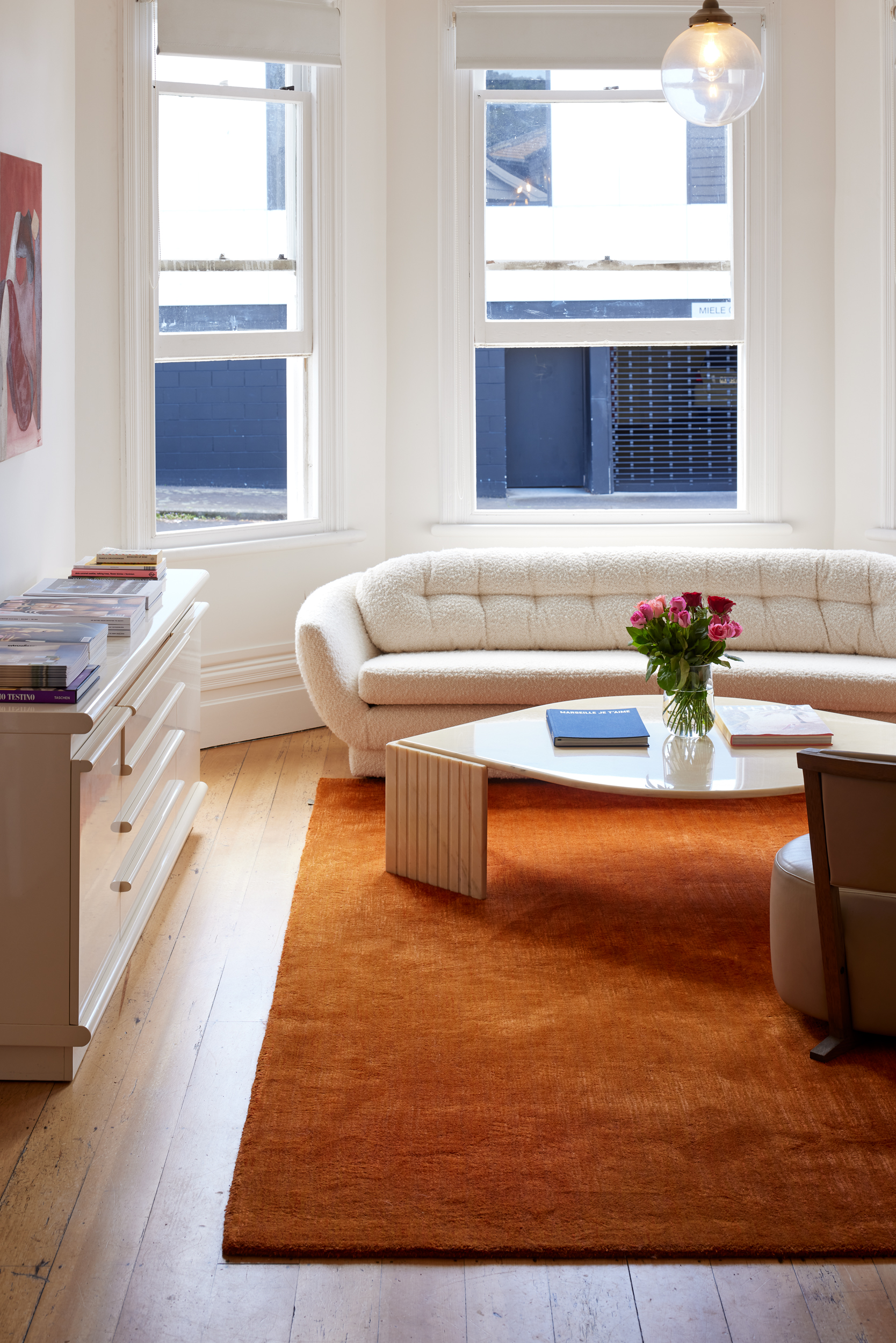 We love that Someday Studio is a brother and sister duo - can you share a little more about your former careers and why you decided to join forces creatively?
Milly: Both Henry and I have had a mix of large and small advertising agency experience, we actually started out at the same agency – Oglivy, then ended up at the same PR agency, Hustle & Bustle, five years later where we escaped Ad-land for something a little more diverse and real world working on some pretty cool events, activations and brand launches. Our time there, mixed with our love of design, fashion and popular culture has led us to the unique mix of clients we now work with at Someday Studios. Taking the leap and starting our own agency was a lot less daunting being able to lean on each other, we each have a separate but very complimentary skill set. Like a typical creative duo, Henry brings creativity and big thinking, I bring strategic thinking and finesse. And spelling and grammar. :))) Between us we have quite a broad network of wonderful humans which helps keep the briefs rolling in.
What is the working culture like at SS?
Henry: The culture Milly and I have tried to create at SS is to make everyone feel at home. Whether that is us, our staff, visiting clients, or friends popping in to say hi. We've set the studio up to be welcoming, warming and cosy and our attitude towards day to day vibe in the office reflects that too. I guess it's the long days and late nights in advertising that made us want to make our work environment less corporate.
How do you hope people feel when they enter your office space?
Milly: Our office is a typical Freemans Bay villa, so we've set it up like a home, we love furniture, art and design so we've made it feel like an extension of our own homes and personal spaces, and thankfully we have similar style. We hope people feel a sense of calm, and also inspiration – our space is full of books, magazines and art, we have a Samsung frame which we like to play surf vids or fashion shows.
When it came to choosing a rug for the office, what was it about the Bamboo Silk in Marigold that you were drawn to?
Milly: To be honest, the Marigold colour looking so incredible in our space has been a bit of a fluke. We originally chose it for our first office which was very humble, with dark old threadbare carpet in an old heritage building. We wanted to cover it up with something contrasting and impactful so we were drawn to the deep rusty orange. Turns out we ended up moving office soon after and it never got to shine in the old space. Instead, it arrived just in time for our new office, a Freeman's Bay villa and it's a match made in heaven. It sits on blonde wooden floorboards and really warms the space. In the afternoon the sun blasts through and hits the Marigold, turning the whole office a vibrant orange.
What is the intention with the area in which the Bamboo Silk rug is placed?
Henry: The area is a bitta everything. It's our meeting area, reception area, post weekend catch up and Friday drinks area. It needed to cater to different needs given our space is small so it made sense to us to make it feel like a living room space where you'd host people. We have a beautiful ivory boucle sofa from Babelogue, as well as a stone coffee table and lacquered sideboard (both also Babelogue) with the Nodi Marigold rug anchoring these pieces.
Being the co-founder of an agency that demands your creative thinking so often, how do you overcome creative blocks? Where do you draw inspiration from?
Henry: Ha. Funny you ask. As I am currently sitting at my desk, in an empty office at 7pm, having a serious f****** block. It happens all the time. It means you need to stop. Get out. Exercise. And start again.
Creativity builds from sharing your thoughts and talking about them. I get inspiration from my friends.
In my head, I align briefs and creative problems to my friends. Then from there I work backwards. What would they want? How would they react?
When do you and your team feel most connected?
Milly: In the mornings, we have lots of coffee and tea. Henry always gets here first and burns some incense and plays music (usually Van Morrison or the Soaked Oats) which sets the mood. We have chats, share what we've got going on for the day, articles, industry news, and goss. We get a lot of inspiration from each other