At Home With Kelly Muller, of Kelly Müller Consulting (KMC)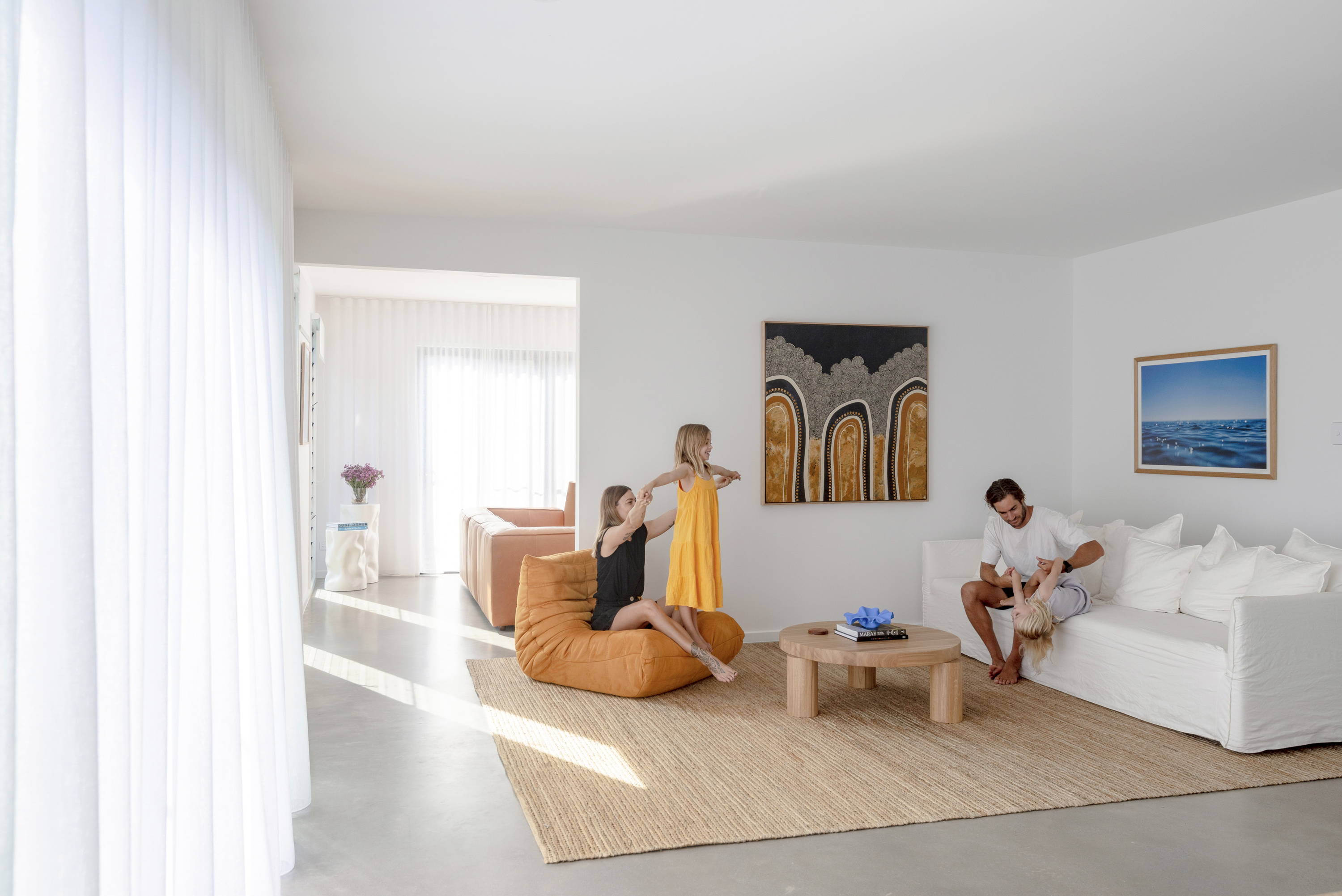 The self confessed natural born leader Kelly Müller of Kelly Müller Consultancy has just embarked on a huge project close to her heart: a newly built home for her whānau of four situated in beautiful Lennox Head. A coming together of the family's most cherished objects and a space for their partnerships to come to life.
Softening the polished concrete floors of their living room, is our Pony Braid Jute Rug, and in the entertainment room is our plush Pebble Weave Rug, which Kelly tells us is "perfect for the girls to roll around and do handstands on." Photographer Nat McComas photographed Kelly, her husband Josh and their two daughters at home so we could get a glimpse of Kelly's interior design considerations...
You had the experience of building your home from scratch. What was your focus in terms of interior textures and colours?
We wanted our home to be functional and comfortable for our little whānau of four, a home to be lived in, nothing too precious or fussy. We went with a really simple and timeless palette that we could bring warmth and colour to through natural textures and finishes. The base of the house is the same throughout - Dulux Vivid White on the walls, polished concrete floors for the main living areas, 100% wool carpet for the bedrooms and Laminex Calm White for all of the cabinetry. We knew we wanted natural Nodi rugs in our home so we built our living spaces and furnishings around our chosen rugs, then introduced colour throughout the house with linen, books, artwork and little sculptural finishes.
Can you tell us about a few of your chosen pieces of furniture or artworks that have a special significance to you?
After years of living in rentals, Josh and I were both really keen to invest in artwork that would hang in our new home, (and every home thereafter). Because we were building, we knew the size of the walls we had to work with and started to seek out pieces to suit.
We have two pieces by my friend and artist Meg Gallagher, one was a gift from a group of my friends and husband for my birthday last year (commissioned with the new house in mind) and the most recent, is a deeply personal commission in dedication of my late best friend. It hangs in our bedroom and I can't even find the words to explain what it means to me.
'Guyang' by Aboriginal Artist Lauren Freestone was a gift from my mum and husband, which hangs proudly in our living room and I recently bought a bright and colourful piece by Jakey Pedro for Josh for Father's Day. It's a fun and unexpected print that offsets the warmer, natural colour palette in some of the other pieces.
Outside of these, we also have large framed pieces by photographers Tane Coffin, Rambo Estrada and Richard Hodder and I am still waiting for the day to own a piece by Nikau Hindin.
How has your experience been so far living in your space? What has your new home facilitated for you as a family?
That's a great question and the answer isn't one I expected. Josh and I had never been overly focused on buying a home and over the past 13 years, happily rented apartments and units close to the beaches in Mount Maunganui, Sydney and then Lennox Head.
But the feeling we now get from coming home, a space and a place that is ours is something I wasn't anticipating. Perhaps it's recognising the efforts it took to get us here, the sacrifices we made and the work we put in. It's a privilege that is not lost on us, being able to purchase a home in today's world, and it took us a long time to be able to do so. Living in this home makes me so very proud. Of the choices we've made and the life we've built. It is so fulfilling to see our kids skip from room to room and use the spaces as we imagined. All of our rentals before were quite small and I feel like we were always itching to get outside, but now, there's something so nice about just being at home.
"I love the aesthetic and softness of the Pony Braid. We went with the oversized option so it filled the whole space and it anchored the room. It's turned into a space that everyone loves to gather in."
You chose a Pony Braid Jute and a Pebble Weave Rug for your home's living areas. Can you tell us about why you decided to place these textures in these rooms, and what they now serve for you and your family?
I took a lot of time to select the right rugs for our home. I had a design consultation, used the Nodi rug visualiser and ordered samples before I made my final decision. For our TV room / kids playroom, it was imperative that the rug was thick and soft underfoot. We wanted to be able to sit and lay on the rug, to live with the rug and for it to feel really comfortable. The Pebble Weave is the perfect choice. The kids can do rollie pollies and handstands on it, we all sit on it to read and play together and the textured finish makes it really forgiving for a high traffic area, despite it's neutral palette.
For our main living room, it's part of our open plan dining and kitchen space so I wanted a rug that would tie in with all of our existing oak furniture. Jute was the perfect tone for this but I was fussy with the finish. I loved the aesthetic of the Pony Braid and as I didn't want a rough or uneven texture that can often be found with jute rugs, the softness of the Pony Braid made it a clear choice. We went really oversized so it filled the whole space and it really anchored the room. It's turned a space that we thought would be used occasionally into a space that everyone loves to gather.
"We knew we wanted natural Nodi rugs, so we built our living spaces and furnishings around our chosen rugs, then introduced colour throughout the house with linen, books, artwork and little sculptural finishes."
What is your favourite time of the day/week at home?
With two children, a business, school & daycare pick ups and drop offs, and after school activities, the weeks are really busy and full. I love nothing more than waking up on a Saturday morning, with no plans and an entire weekend ahead of us. When the sun is shining, we generally pack up quite swiftly and head down to one of the many beaches in our beautiful region and come home in the afternoon salty and sandy. Margaritas in the afternoon sun and a barbeque with friends is the perfect end to a perfect day.