A Thoughtfully Designed Homestead, as seen in The New York Times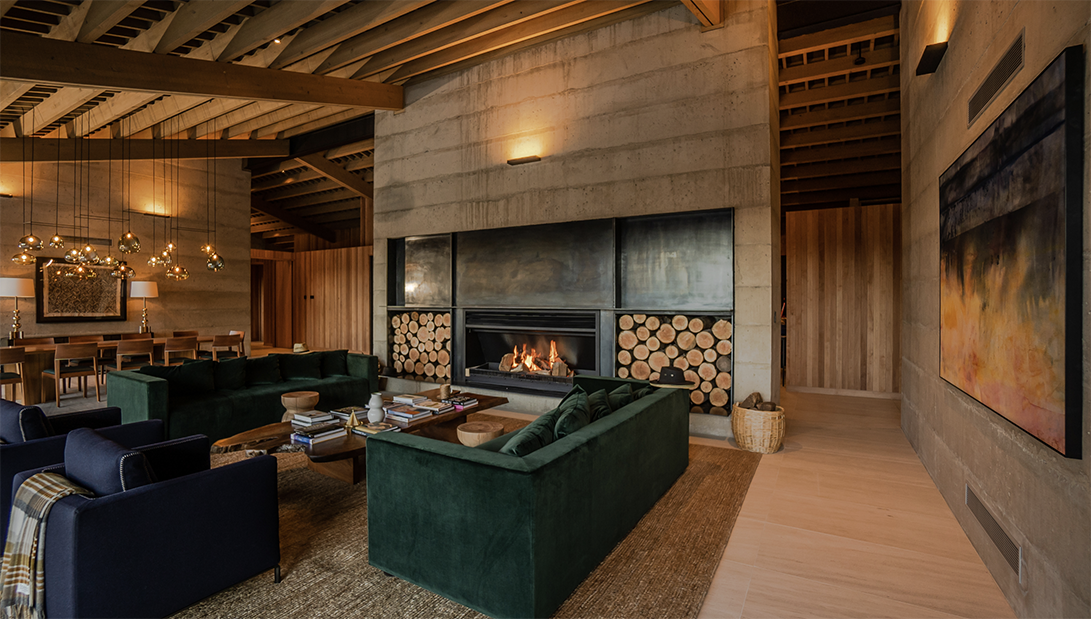 Flockhill Lodge, located near Arthur's Pass National Park, is a masterful combination that celebrates New Zealand design in response to its landscape.
.
"When you're here, you're absolutely consumed by the scale and majesty of the landscape,"
says the architect Jonathan Coote, of the Auckland-based firm Warren and Mahoney.
Coote's straightforward approach includes timber, limestone and tinted concrete cast in slim layers, as well as a simple pitched timber roof, an ode to the utilitarian farm structures scattered around the homestead.
Each of the four bedrooms features organic New Zealand-made interiors, including our Bamboo Silk Wool Blend and Jute Rugs. These sensual textures sit alonsgide hand-blown glass lamps by Monmouth Glass Studio and reclaimed rimu-wood bed frames topped with Merino Dreamwool mattresses and alpaca blankets produced on a farm near Dunedin.
Christchurch-based interior designer Jessica Close selected sofas upholstered in Schumacher velvet, wool chairs by B&B Italia and a custom-made coffee table from furniture company Tréology.
We spoke to Jessica about her interior design considerations...
What were some of the ideas around the mood you wanted to create with furnishings at the Homestead?
I set out to create a refined, warm and luxurious interior focussing on New Zealand-made, more specifically handmade furniture, furnishings, flooring and lighting. Every piece has a story and the narrative that is woven throughout the homestead is 'a conversation with nature'. Organic textures; rough linen, wool (felted, woven and boiled), native timbers, hand blown glass and luxurious silk/wool flooring. Simple, unpretentious, warm and luxurious – the 'perfectly imperfect' wabi sabi.
The colour palette feels so warm and comforting, can you comment on your decision making around the aspect of palette?
I sought to bring the outside in, all the colours that are on the station and outside the window. I visited the site a number of times in the months after I was appointed, prior to design work commencing, and was so inspired by the seasonal changes to the landscape. With concrete walls and limestone floors it was important to me that there were calming colourful interiors. I began the design process by selecting the rugs for the homestead. Nodi's Wool and Bamboo Silk Blend rugs informed each of the four bedroom schemes, and everything else flowed from there - custom Monmouth Glass table lamps, lacquered trays, velvet furniture and wool curtains. I adore jute, seagrass and sisal. I use them in every project, the more the better! Nodi's Braided Jute Rug was the most perfect starting point for the living and dining room. It grounds the space. It is unpretentious, imperfectly and beautifully woven.
The giant landscape is obviously a huge part of the Homestead's appeal, how did it feel being in that environment, and how do you feel the interiors respond, both in relation and in contrast, to it?
The location is overwhelming, as soon as you arrive. The scale, thoroughly intimidating. The spaces are grand and so well defined by the architecture. I know it might sound strange, but my first instinct on my first site visit was to design interiors that read horizontally. There is so much to take in, the landscape and the architecture, both of which take your eye up and envelope you. I wanted the various rooms to feel intimate, comfortable. Structured but unobtrusive.
And lastly, why was it important for you to include local designers?
Authenticity, integrity and comfort governed the design direction for the interiors design of Flock Hill Homestead. All words synonymous with New Zealand design. My interior design narrative from the outset was firmly rooted in New Zealand businesses, designers, makers and materials. It was important to me that all the elements that make up the house should be considered, custom made, handcrafted and of exceptional, unparalleled quality. On any given project there is a huge cast of incredibly talented people who realise the vision, and I feel very fortunate to be working with them. My clients were incredibly trusting of the vision, and wholeheartedly supported the investment in local design.
The four-bedroom Flockhill Lodge, sitting underneath Broken Hill - a craggy range of towering rocks, echoes its surroundings with its poured concrete structure, topped with limestone tiles. The wall of windows in the main living room look across Lake Pearson to Sugarloaf Mountain. In pure kiwi style, the understated luxury of it all is a feast for the eyes.